There are numerous private campgrounds located throughout the state of Indiana. Like public campgrounds, our intention is not to list and provide links to all private campgrounds. And like public campgrounds, private campgrounds must meet certain criteria that should ensure a rewarding camping experience for all involved.
******************************************
Hidden Creek Campground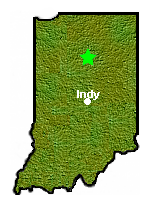 1812 North State Road 19
Peru, Indiana





CLICK THE MAP IMAGE above
for location, photos and Google reviews. Average Google review rating was 4.8 out of 5 as of 07/28/19.


CLICK ON THE MAP IMAGE
below for the location of Peru


****************************************
Private Campgrounds

–

These are defined as campgrounds that offer camping facilities to campers on either a seasonal basis or a yearly basis, but not to overnight or short-term campers.
CRITERIA
The following includes our basic criteria that private campgrounds must offer to prospective members:
Family-friendly, including children and pets

Playground area for children

Full hook-up availability

On-site dump station

Secure entrance to campground facility

Internet log-in page for members

Rules and policy agreements.
This basic criteria must be listed on an Internet website and available for all to read, including the general public.
OPTIONAL EXTRAS
Before deciding to reserve a private campsite, we encourage visitors to RVs and Tents to consider all of the amenities offered at the campgrounds we list. There will be differences, and these differences could go a long way towards making your camping season an enjoyable and rewarding experience.
The following "optional extras" might be listed on the website of the campgrounds and could be part of the decision-making process.
Swimming pool and/or swimming lake

30-50 amp electrical supply

WiFi availability

Restroom and shower facilities

Camp store with various camping supplies

Firewood and ice availability

Planned social activities

Picnic table and fire ring for each campsite.
IMAGES, IMAGES
There is much truth to the old idiom "a picture is worth a thousand words."​​ In our opinion, the more photos of the campground facilities, the better.
There is no reason to spend time and money to check out private campgrounds only to be disappointed by the results. Generally, it is not enough to show scenic, outdoor photos of the surroundings on the website. Campgrounds that include photos of actual campsites are helpful for all parties involved.
If seasonal camping at a private campground is your choice, we hope it offers many, many happy times and memories.
The Happy Campers at RVs and Tents