Welcome to
RVs and Tents
Our menu to the right indicates the cities and towns in Indiana offering camping facilities within their boundaries or in the outlying areas. These facilities meet the criteria of most campers and our website visitors. That criteria includes a website with detailed pricing for overnight camping, some photos of campsites, location information, contact information, etc.
The Cities and Towns menu is separated into 4 sections…Northwest, Northeast, Southwest and Southeast. The 4 sections are determined by the location of Monument Circle, which is generally considered the center of Indianapolis. The map below indicates the location of the sections.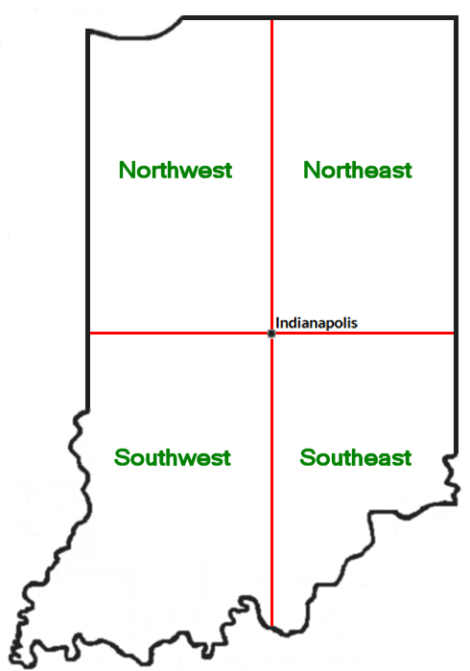 On the left side, at the top, there is a drop-down menu structure that points to pages offering links specifically to the Indiana State Parks, State Recreation Areas and other Indiana DNR facilities. In addition, there is a link to a campground within the National Park Service.  There are also links to camping facilities under control of the U. S. Department of Agriculture Forest Service.
Most facilities offer both RV and tent camping, while a few only offer tent camping.  Be sure to read all the information carefully on the pages of the campground facilities.

Next, there are 4 links in bright green linking to valuable and useful information for all campers, particularly regarding information on RV Dealers and/or Service Centers
There is also a small image on the left side pointing to information for Private Campgrounds In Indiana and a small image pointing to information for Horseman Campgrounds. Be sure to visit the pages.

Here's to happy times and happy camping!
RVs and Tents