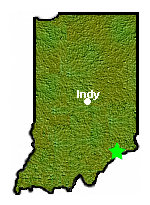 If you prefer, skip the city info below and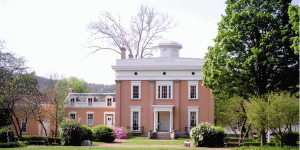 Madison is located about 86 miles southeast of downtown Indianapolis, and about 22 miles east of Scottsburg. The southern edge of Madison borders the Ohio River. The population in 2016 was estimated to be 12, 247 people.
This city has 133 blocks of buildings and structures contributing to the Madison Historic Landmark District. Many of those landmarks are listed on the National Register of Historic Places.
Madison is also home to one of the largest hydroplane regattas in the country, officially known as the Madison Regatta. This exciting event, held annually on the July 4th weekend, attracts up to 100, 000 visitors or more. Additional information about Madison can be found at Wikipedia by CLICKING HERE.
CLICK HERE for the location of Madison
or CLICK the map image below.



Camping Links In Madison



CLICK THE MAP IMAGE above
for location, photos and Google
reviews. Average Google review
rating was 4.7 out of 5 as of 08/21/18.
RV Camping

x
106 Electric Sites

x

30 Amp Service


x

63 Non-Electric Sites

x

Campground Host

x

Dump Station
Tent Camping

x

Yes

xx

x

Youth Tent Camping
Other

x

Drinking Fountains

xx

x

Fire Rings


x

Fire/LookoutTower

xx

x

Grills


x

Hiking Trails

xx

x

Inn w/Modern Rooms


x

Laundromat/Coin Operated


x

Nature Center

xx

x

Nature Preserve


x

Pets Welcome

xx

x

Picnic Areas


x

Picnic Shelters*

xx

x

Picnic Tables

x

Public Restaurant at Inn

x

Restrooms and Showers


x

Swimming Pool

xx

x

Vault Toilets
Things To Do

x

Bicycling

xx

x

Children's Playgrounds

x

Hiking

xx

x

Picnicking

xx

x

Swimming

x

Tennis Courts
Special Info
* –

Picnic Shelters – Contact DNR facility




xx

regarding the probability of Rental Fees.

of the Clifty Falls State Park.
PLEASE NOTE: The listings above are accurate as of 08/17/19, but do not reflect all the amenities offered at this campground. Also, many campground facilities add or remove campsites and amenities over time. We strongly recommend you visit the DNR website at Clifty Falls State Park for all information, complete details and much more.
CLICK HERE to make reservations
for the Clifty Fall State Park.
CLICK IMAGE
for
Extended 7-day
Weather
Forecast In Madison.




****************************************
Other campgrounds within 57 miles of…..
Clifty Falls State Park
Click on the name of the town or city shown below in

text for links to nearby eats, attractions and other information.
Click on the destination campground name shown below in

text for links to the campground websites.
Click on the mileage numbers shown below in

for Google's approximate mileage and suggested driving route.
NOTE: Some cities and towns have multiple campground offerings. Mileage will vary from actual point of departure to destination. Be sure to check the point of departure in the blue section at the upper left of the Google Map result.
Double ** indicates special information about RV camping or days of campground operation. In most cases, but not all, RV camping is prohibited. It is highly recommended to click on the campground website link.
****************************************
Nearby Eats & Other Fixin's
| | |
| --- | --- |
| Harry's Stone Grill | |
| Mike's Grill | |
| Rivercrest Lighthouse Marina Restaurant | |
| The Red Pepperoni | |
| Diego's Mexican Grill | |
Nearby Attractions

If you have any positive experiences or thoughts about the content listed on this page, we would like to hear from you. In addition, a great deal of thought, time and effort went into the design of RVs and Tents. We believe the navigation on this site is easy to understand and the content offering is useful for both RV campers and tent campers of all ages.
Please let us know what you think by leaving a comment below!
Thanks,
RVs and Tents