| | |
| --- | --- |
| | rvsandtents.net |
If you prefer, skip the town info below and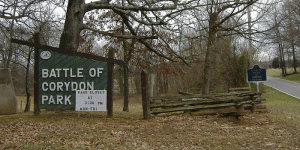 Corydon is located about 111 miles south of downtown Indianapolis, and about 12 miles east of Leavenworth. The population of Corydon in 2010 was 3,122 people.

Corydon is known for it's rich history in the early formation of the Indiana government. The town was once the capital of Indiana until 1825, when the state government was moved to it's present-day location of Indianapolis.
A notable person with ties to Corydon includes James Best, better known as Sheriff Rosco P. Coltrane on "The Dukes of Hazzard."
The entire town is quite scenic and is a popular tourist destination known for it's colorful fall foliage, historical structures, and a multitude of festivals and events.
Several buildings and structures are listed on the National Register of Historic Places. More information about Corydon can be found at Wikipedia by CLICKING HERE.
CLICK HERE for the location of Corydon
or CLICK the map image below.


Camping Links In Corydon

#AD
****************************************



CLICK THE MAP IMAGE above for the location of the O'Bannon Woods State Park, campground photos and Google reviews. Average Google review rating was 4.6 out of 5 as of 05/05/22.

RV Camping

203 Electric Sites

30 & 50 Amp Service

Campground Hosts

Dump Station
Tent Camping

Yes
Group Camping

2 Dormitories (Sleeping Up to 50 People Each)

Kitchen and Dining Hall

Meeting Hall

Picnic Shelter

Restrooms and Showers

Horsemen's Campground

33 Electric Sites

45 Non-Electric Sites

Campground Hosts


Day-use Parking

Horse Wash Stations

Manure Bins


Pit Toilets

Restrooms and Showers

Water Hydrants
Other

Amphitheater

Biking Trails

Boat Launching Ramp


Fire/Lookout Tower

Fire Rings

Fishing Pier**

Grills


Hiking Trails

Horseshoe Pits

Nature Center

Nature Preserves


Open Field Areas

Overnight Shelters for Hikers

Pets Welcome


Picnic Areas

Picnic Shelters*

Picnic Tables


Restrooms

Swimming Pool/Aquatic Center
Things To Do

Bicycling

Boating

Canoeing

Children's Playground

Fishing**

Hiking

Horseback Riding

Horseshoes

Kayaking


Mountain Biking

Picnicking

Swimming

Picnicking
Special Info
* – Picnic Shelters – Contact DNR facility regarding the probability of Rental Fees.
** – Fishing – Requires State License.

of the O'Bannon Woods State Park.
O'Bannon Woods State Park is a unique park, located within the confines of the Harrison-Crawford State Forest. A portion of the state park borders the Ohio River.
There are combination hiking/bike trails, hiking trails, and the 25.5 mile Adventure Hiking Trail for the earnest backpacking hikers. These trails are within the state park and the Harrison-Crawford State Forest. Overnight tent camping accommodations are available along the Adventure Hiking Trail.
PLEASE NOTE: The listings above are accurate as of 08/17/19, but do not reflect all the amenities offered at this campground. Also, many campground facilities add or remove campsites and amenities over time. We strongly recommend you visit the DNR website at the O'Bannon Woods State Park for all information, complete details, reservations and much more.
CLICK HERE to make reservations for O'Bannon Woods State Park.
CLICK IMAGE
for
Extended 7-day
Weather
Forecast In Corydon.



****************************************
Other campgrounds within 54 miles of…..
O'Bannon Woods State Park…..CLICK HERE
****************************************



Nearby Eats & Other Fixin's
| | |
| --- | --- |
| Country Style Restaurant | |
| Cracker Barrel Old Country Store | |
| Dock Seafood | |
| The Overlook Restaurant | |
Nearby Attractions