| | |
| --- | --- |
| | rvsandtents.net |
If you prefer, skip the town info below and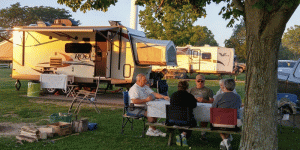 Brookville is located about 67 miles east of downtown Indianapolis, and about 26 miles northeast of Versailles. The population of Brookville in 2010 was 2,596 people.
The town has many buildings and homes listed on the National Register of Historic Places, as well as remnants of the Whitewater Canal. The canal played an important role as a connector between the early pioneer towns in the southeastern area of Indiana.
A 5,260 acre lake, known as Brookville Lake, is about 1-1/2 miles just outside of the center of Brookville. This beautiful lake is popular for great fishing and various water activities.
Much of the surrounding land is in pristine condition, with lots of forestry and rolling hills. More information about Brookville can be found at Wikipedia by CLICKING HERE.
CLICK HERE for the location of Brookville
or CLICK the map image below.


Camping Links In Brookville

****************************************



CLICK THE MAP IMAGE above for the location of the Mounds SRA, campground photos and Google reviews. Average Google review rating was 4.5 out of 5 as of 05/02/22.

RV Camping

60+ Sites with Full Hookups

380+ Electric Sites

30 & 50 Amp Service

Campground Host

Dump Station

Water Fill Station
Tent Camping

Yes
Other

Access to 5,260 Acre Lake

Beach Bathhouse w/Restrooms


Boat Launch Ramp

Camp Store

Fire Ring


Fish Cleaning Station**

Grills

Hiking Trails

Horseshoe Pits


Pets Welcome

Picnic Areas

Picnic Shelters*

Picnic Tables

Restrooms and Showers

Water Stations
Rentals

Water Activity Rentals at Nearby Marinas
Things To Do

Basketball

Beach Swimming

Bicycling

Boating

Canoeing

Children's Playground
s

Fishing**

Hiking

Horseshoes


Ice Fishing

**

Kayaking

Kid's Fishing Pond

Picnicking

Soccer

Various Water Activities

Waterskiing
Special Info
* – Picnic Shelters – Contact DNR facility regarding the probability of Rental Fees.
** – Fishing – Requires State License.

of the Mounds State Recreation Area.
PLEASE NOTE: The listings above are accurate as of 08/17/19, but do not reflect all the amenities offered at this campground. Also, many campground facilities add or remove campsites and amenities over time. We strongly recommend you visit this DNR website at Brookville Lake for all information, complete details and much more.
Clicking on the website image or blue text link above will take you to the DNR website for Brookville Lake. The Mounds State Recreation Area map is combined with the campground map for the Quakertown Campground.
The main entrance to the campgrounds (located within the Mounds State Recreation Area) is about 6 miles northeast of Brookville, Indiana…………off of Indiana St. Rd. 101.
We've had the pleasure of camping in this area several times, and it is our #1 pick for a state-owned and operated facility in Indiana.
When we camp at the Brookville Mounds Campgrounds, we enjoy watching so many larger families gather for camping activities and fun under the sun. Yes, the additional guests are required to register, and they do pay extra as expected. But it's always nice to know that this friendly facility accommodates large groups of family and friends. And they allow RVs and tents on one site. (One wheeled unit and one tent, as well as a dining fly is allowed per site OR two tents and a dining fly.) If your group is large, we would strongly suggest making reservations well in advance and procuring camp sites adjacent to each other.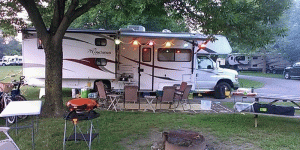 The campgrounds are always clean and free of rowdy behavior. We can count on the campground hosts and park personnel to keep things well under control to ensure the camping experience is enjoyable and peaceful.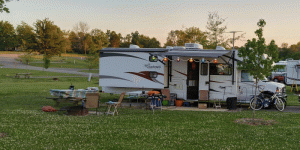 The Brookville Mounds Campground is located in this expansive area of forestry, within driving distance to the beach facilities on Brookville Lake. This campground provides large campsites, lots of open grassy area for recreational games and smooth, paved roads. The restroom facilities are generally kept very clean.
Some words of advice….if you intend to use the beach facilities at the Mounds Campgrounds, you'll need transportation back and forth. The Brookville Lake Beach is approximately 2 miles from the Mounds Campgrounds. For most people, walking the distance is out of the question and biking back and forth would be difficult.
The services and amenities within and outside of the recreation area are just too numerous to list, so please visit the DNR website for Brookville Lake and discover the offerings.
CLICK HERE to make reservations for the Mounds State Recreation Area.
****************************************



CLICK THE MAP IMAGE above for the location of Morgan's Outdoor Adventures, campground photos and Google reviews. Average Google review rating was 4.5 out of 5 as of 05/02/22.

Morgan's Outdoor Adventures offers tent and cabin camping only. There are on sites available for RVs.

CLICK IMAGE
for
Extended 7-day
Weather
Forecast In Brookville.



****************************************
Other campgrounds within 49 miles of…..
Mounds State Recreation Area…..CLICK HERE
****************************************



Nearby Eats & Other Fixin's
| | |
| --- | --- |
| Ainsley's Cafe | |
| Dairy Cottage | |
| Korner's Kountry Kitchen | |
| Pizza Pete | |
Nearby Attractions