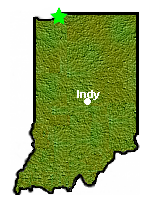 If you prefer, skip the town info below and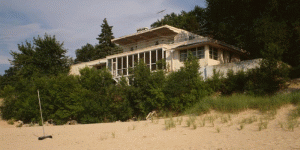 Beverly Shores is located about 137 miles northwest of downtown Indianapolis, and about 37 miles west of South Bend. The town's entire northern boundary is situated on the shoreline of Lake Michigan. The population of Beverly Shores in 2010 was 613 people.
This small town is known all over the Midwest for it's rich history steeped in real estate development and beautiful shoreline properties. Sixteen structures were purchased from the 1933-34 Century of Progress World's Fair in Chicago and relocated to Beverly Shores. More information about Beverly Shores can be found at Wikipedia by CLICKING HERE.
CLICK HERE for the location of Beverly Shores
or CLICK the map image below.



Camping Links In Beverly Shores



CLICK THE MAP IMAGE above
for location, photos and Google
reviews. Average Google review
rating was 4.5 out of 5 as of 08/14/18.

of the Dunewood Campground.
PLEASE NOTE: The Dunewood Campground is a unique campground. RV campers are allowed, but there are no electric or water hookups. Access to picnic tables and fire rings are walk-in only, and all vehicles must remain on the pavement. Tent campers must remain on the designated camping pads. There are shower and restroom facilities.
Reservations are not available. It is a first come, first served basis. Cash is not accepted and campsites are paid for through a kiosk system. Credit cards are needed.
It is highly recommended to visit the website of the Dunewood Campground for complete details and other important information.
CLICK HERE or click the website image above.
CLICK IMAGE
for
Extended 7-day
Weather
Forecast In Beverly Shores.




****************************************
Other campgrounds within 42 miles of

…..


Dunewood Campground
Click on the name of the town or city shown below in

text for links to nearby eats, attractions and other information.
Click on the destination campground name shown below in

text for links to the campground websites.
Click on the mileage numbers shown below in

for Google's approximate mileage and suggested driving route.
NOTE: Some cities and towns have multiple campground offerings. Mileage will vary from actual point of departure to destination. Be sure to check the point of departure in the blue section at the upper left of the Google Map result.
Double ** indicates special information about RV camping or days of campground operation. In most cases, but not all, RV camping is prohibited. It is highly recommended to click on the campground website link.
****************************************
Nearby Eats & Other Fixin's
Nearby Attractions

If you have any positive experiences or thoughts about the content listed on this page, we would like to hear from you. In addition, a great deal of thought, time and effort went into the design of RVs and Tents. We believe the navigation on this site is easy to understand and the content offering is useful for both RV campers and tent campers of all ages.
Please let us know what you think by leaving a comment below!
Thanks,
RVs and Tents