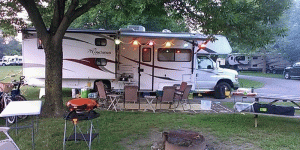 Simple mission…to provide campground links and other information for RV and tent campers.
RVs and Tents is NOT a review site. We provide links to Indiana campgrounds, information, nearby food establishments and attractions. We leave the decision to our visitors to either use or NOT use these facilities. We hold RVs and Tents harmless from any legal proceedings resulting from visitor decisions.

We will, in some instances, offer recommendations on various campgrounds based on our positive, personal experiences while camping at these facilities.
How RVs and Tents displays information and links:

We begin by listing State parks and recreational areas, if any, that are located in or near the city or town referenced in the title of each page.

City and town locations are determined by the city or town information listed on the campground websites, and those locations as determined by the DNR for all DNR properties.

We then list other public and privately owned campgrounds that offer overnight camping facilities, but only if they have an independent website for their campgrounds.

We will list links relating to nearby restaurants and attractions for our camper visitors. The restaurants will range from casual to formal, from fine dining to fast food. The attractions will cover activities outside of the campground areas. We do not endorse any of these businesses.

Links to "Nearby Eats & Other Fixin's" and "Nearby Attractions" are limited to 5 links in each category. The first 5 requests for linking will take priority over recommendations and search results.

Each campground website must have a representative photo collection of RV and/or tent campsites. These photos will help our visitors with their decisions. Additional photos of various campground facilities and entertainment activities must be included.  Water activity for the young and old is required, such as swimming pools and lakes suitable for swimming.  Exceptions will be made for many Indiana DNR facilities that prohibit swimming in various lakes and ponds.

The rates for RV and/or tent camping must be listed and current at all times.

Official Facebook pages will be considered for links, but only if they meet the conditions listed above for independent websites.

If logins to Facebook are required for photos, pricing and additional information, a link will not be considered.

At all times, we reserve the exclusive right NOT to link to various campgrounds and other facilities.
PLEASE NOTE: We encourage our website visitors to make use of the links we provide to the various campgrounds and other facilities as listed. In most cases, we only provide links to the facilities.
The information available at the parks, campground and other facility websites will, in all cases, be the determining factor in a camper's decision to use and pay for the facilities and/or services.
In addition, we encourage our visitors to visit the many popular review sites found on the Internet. We provide a list of some Review Sites for Camping In Indiana by clicking the link on the bottom right side of each page.

We also offer links to the abundant number of RV centers and independent outlets that provide service and/or repairs. These links are found by clicking on Indiana RV Dealers and Service Centers link also on the bottom right side of each page.
RVs and Tents